We were proud to be able to host Wiltshire Council at school at the end of August, who came in to film a video of our hand washing and other protective measures. They wanted to showcase what we had done as a school to protect our returning children and staff. Here's...
read more
Horseshoe Bats have been IT whizzes this week, learning how to log on to chrome books using their special personal username and password! They did super team work in pairs and helped each other to troubleshoot any problems.
Year 6 had great fun today creating posters about The Blitz!
Horseshoe Bats have been busy measuring objects using their hands and feet this week! See if they can show you at home!
Phew, what a fun packed first week back in Year 1! We had so much fun on our woodland adventure on Tuesday, especially jumping in the muddy puddles!
Year 6 had great fun today building Anderson Shelters out of the playpod!
Natterer Bats had the "BEST DAY EVER" today (26th February 2020) as Grace from Young Blooms taught us how to plant daffodil bulbs and arrange flowers. The children were thrilled to take home their creations. Please take pictures of the daffodils as they grow.
Year 1 were very interested in learning all about Shrove Tuesday - especially making pancake batter and then having a taste of a scrumptious pancake!
Year 6 started the new term with a brilliant immersive WW2 day. We packed our suitcases, created name labels, watched old film footage and talked about how it would have felt to be evacuated
What an amazing start to Year 2's Scented Garden topic. They started by finding out facts about plants from information books. They then swapped petals to read each other's facts before using them to make fact flowers for their display. This afternoon (24th February...
Wow, what fantastic Dinosaur Museums Year One! Your families loved seeing all your hard work and you were all brilliant Museum Guides! Y1 had so much fun sharing their fact files, dinosaur biscuits, sockasauruses, dinosaur Beebot mat and other dinosaur work with their...
Year 5 children showed incredible courage and skill when reading their brilliant Peasants' Revolt speeches to parents today (13th February 2020). It truly was a Fabulous Finish and show-cased amazing progress in oracy, writing and learning from history. Wat Tyler...
It was fantastic to welcome our parents in to our fabulous finish in Year 6 to celebrate the end of our Evolution Topic. We have had such fun and learnt so much about Charles Darwin and the Theory of Evolution.
Our Y6 children at have been working hard researching the question 'Are different tools better for picking up different types of seeds?' They created a hypothesis, wrote a method making sure to identify the variables, carried out the investigation, created a graph...
Year 4 children visited We The Curious today. They had the opportunity to explore the centre and watch a science show called 'Splash and Bubble', which engaged them with liquids, gases and ideas about volume and measuring.
Our year 2 children visited Westonbirt Aboretum, to learn about different trees today. They collected leaves, made a natural sculpture and presented some poetry.
Castle Mead year 3 & 4 Football Team, Sophie, Deacon,Rio,Jacob,Cece,Tafa & Charles enjoyed a brilliant sunny afternoon of fun football matches at Warminster Football festival on 7th March. Games against Dilton Marsh 1 & 2, Chapmanslade 1 & 2, The Mead,...
Bechsteins focused a lot of their learning on renewable energy this term, alongside fun activities in PE (Tag Rugby and Art (talking photos following the 'rule of thirds' technique).  The term finished with a fantastic trade show where the children demonstrated their...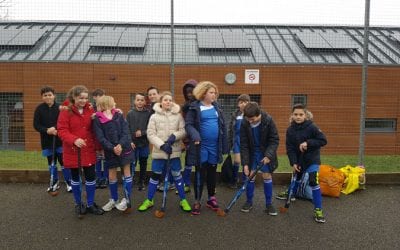 A group of 12 children from Year 5 & 6 attended the school games hockey festival at Kingdown School on Monday. Bitterly cold and wet weather did not dampen their spirits as they undertook skills workshops to improve their proficiency and this was followed by mini...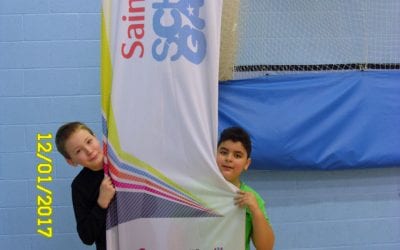 Castle Mead Pupils Imran and Kenny represented the school on Thursday 12th January at the Wiltshire School Games County new age kurling competition. As expected competition was tough with 30 teams including secondary schools having qualified to take part. The morning...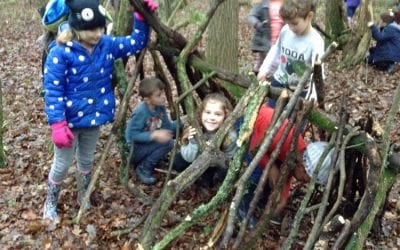 Our Term 2 topic in Barbastelles was The Lion, The Witch and The Wardrobe. We began our topic by transforming our classroom into the land of Narnia, and imagined what we would see when we stepped through our own wardrobes. Through the term we wrote fantastic...