Order your lunches now.
Please book your lunches for Autumn Term 1. 
If your child is in Years 3 – 6, you will need to pay for their lunches when you book them.
You can do all of this the Arbor Parent Portal here.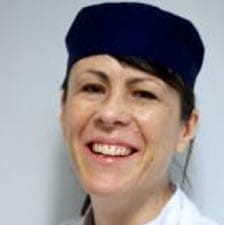 Meet our School Cook
My name is Jo Huckett. I am the school chef here at Castle Mead and have been since the school opened. Before that I worked at The Mead for a few years. I love to create interesting menus for the children to try and hope to accommodate any special allergy requirements in the best way possible. If you would like to discuss any food related issues directly with me or if you have any concerns about the menu please email the school office and I will do my best to help. I hope to share some recipes and photos of our lovely food over the term so you can get an idea of what goes on.
Are you packing a healthy lunch?
Read this handy guide from the Public Health Agency on how to pack a healthy lunch, including helpful ideas on how to add variety 
"I have now booked [my child's] gluten free menu for term 3 and wanted to thank you for all your help. She loves your gluten free pizza and beef bolognese with pasta. I am so relieved that she still can enjoy school meals with her coeliac disease." Parent Feedback